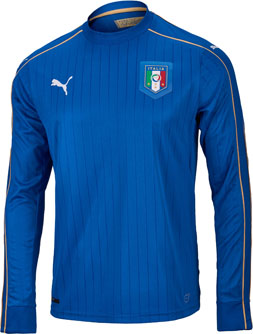 Puma Italy Home Jersey
2016 Puma Long Sleeve Italy Home Jersey
Who has more class than the Italians? NO ONE, that's who. To represent this, Puma has created the

Italy Long Sleeve Home Jersey

. It's a blue beauty with Italian identity throughout. With Euro 2016 this summer, it's a must-own for Italy supporters.




When you have all-timers like Pirlo and Buffon, your team is bound to be legendary. This crop of Italy players has already achieved so much -- yet they're still hungry for so much more.




In the long sleeve version of this jersey, you can stay warm in a fantastic looking Italy shirt. What's not to like here? Find all of SoccerPro's

Italy soccer apparel

on their team page!