2016 adidas Authentic Spain Home Jersey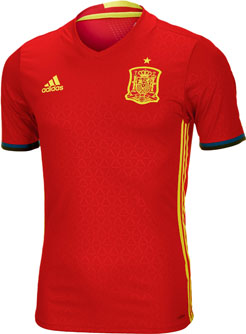 adidas Spain Authentic Jersey

La Furia Roja

dominated world soccer for about six years between 2008 and 2014. Now, sure, they've aged a touch but there is still serious talent up and down this squad. David De Gea, Isco, and Alvaro Morata are all under 24, and the likes of David Silva and Andres Iniesta are still around, terrifying the opposition. Trust us, if any country can find their way back to the top, it's Spain.




The Spanish beauty on the field translates directly to their uniforms for 2016. The

adidas Authentic Spain Home Jersey

is the shirt you will see them sporting for the 2016 Euros. This particular jersey is the exact one the players will wear on the pitch, with its lightweight feel and moisture-wicking capabilities. It's a gorgeous red with an exceptionally subtle visual pattern that only further sets it apart.